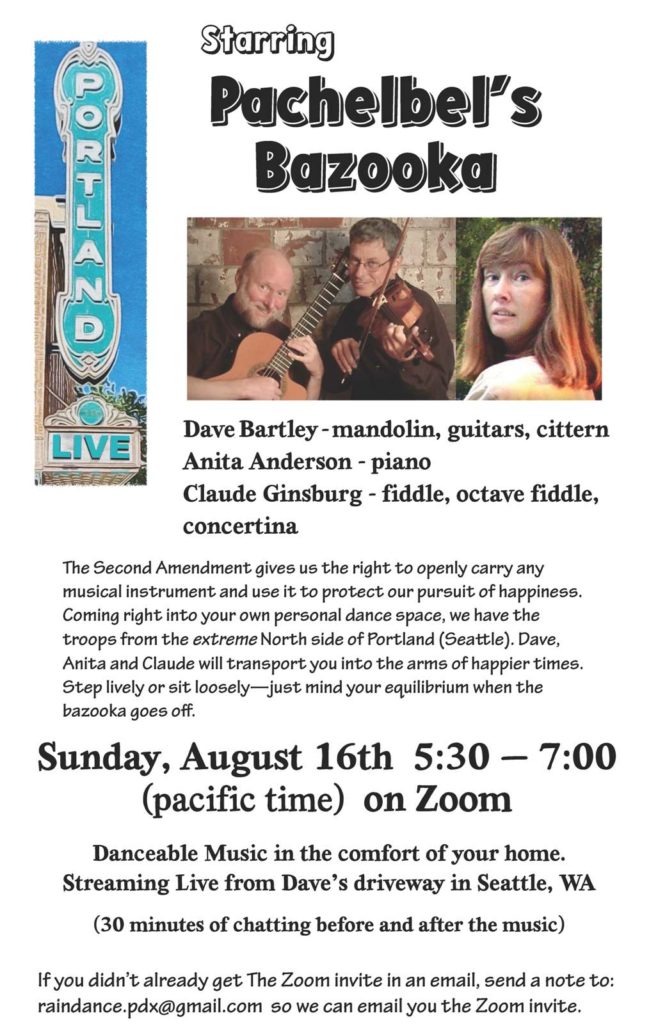 Are you missing dancing, live music, and seeing your friends? We are too! So we've created this online series to showcase the wonderful talent we love so much.
We've got another great "Portland Live" event for you on Sunday, August 16, 2020, featuring Pachelbel's Bazooka: Dave Bartley on mandolin, guitars, cittern, Anita Anderson on piano, and Claude Ginsburg on fiddle, octave fiddle, concertina. Another evening of well-phrased melodies and harmonies set in a danceable groove, with chat before and after. We open Zoom at 5 pm for a half hour of conversation with dance friends, music from 5:30-7:00 pm, and another half hour of talk after the music. We'll also be live on the Portland Live YouTube channel (just 5:30-7:00 pm for the music) in addition to Zoom. Come join the fun. If we can't dance at Fulton Hall, at least we can see and hear some of our favorite musicians playing there.
Check out our previous "Portland Live" events (June 28 with Campaign for Reel Time, and July 19 with Joyride!) on the Portland Live YouTube channel
---
If you got an email invitation with the Zoom instructions for previous events, you're on our list and will get one for Pachelbel's Bazooka. To be added to the list, please click here to email us. (We do not post Zoom instructions on social media for security concerns).